No outstanding issues at this time
---
Previous bugs
Ahsay version 7
Affecting clusters B21 and B22. Cluster B20 is unaffected
Issue
When backing up to our storage destinations on Microsoft's cloud [Azure], the quota doesn't always prevent backups from running. Cluster B20 doesn't use Azure as a storage destination and is unaffected.
You can check which cluster an account is using from the right-hand side of their customer page in your reseller portal.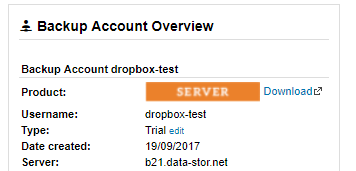 Impact
When a quota is reached, the system might not prevent any further backups from running and consequently, customers could overuse the service.
Fix
We have logged this issue with Ahsay and it was expected to be fixed in early 2018. We have been told it will be fixed in the next major release which is likely to be in May 2018.
Updated 8th August. We plan to roll out the fix in late August