Enhanced deduplication
Version 9 of Ahsay's cloud backup uses deduplication technology across all data sets with an average saving of 40% on storage compared to the v8 In-File Delta technology.
Basic overview
Deduplication is used to identify and filter out duplicate or repeating data blocks during a backup job. As a result, only the unique data blocks are backed up to the storage destination(s), therefore significantly reducing data storage usage and storage costs.
Because fewer backup data chunks are generated with deduplication, both the backup and restore performance is greatly improved. This in turn leads to reduced storage sizes and costs.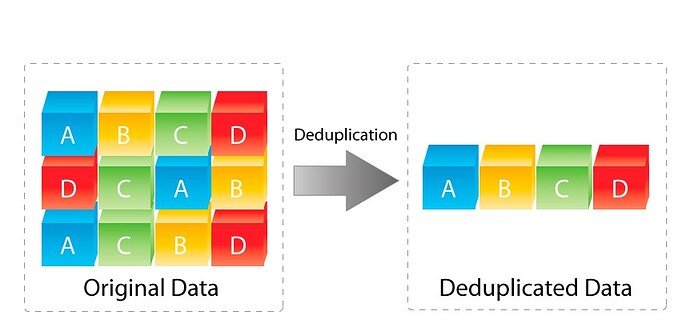 v9 rollout and dataset versions
All backup accounts created since the 1st of July 2022 will use v9 and deduplication for their data sets.
v7 and v8 accounts that have been upgraded to v9 will still use the v8 format for their existing data sets, and v9 for new data sets. New data uploaded to an existing v8 data set will be deduplicated.
The intention is that v8 data sets will be reduced over time in line with their retention settings and older EOL deletions.
v9 DONT's
If you run a manual backup on a v9 client that has been upgraded from v7 or v8, you will see a new option Migrate Data.
If you tick this box, your data will be backed up again in full and the existing data set will double in size when it is upgraded to a v9 data set.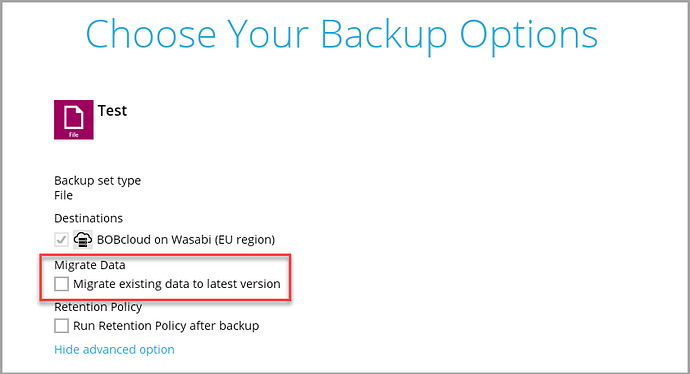 Can I upgrade my existing data sets to v9 format?
This option is available if you want the benefits of deduplicated data on your v7 or v8 data sets.
If you want to convert your previous v7 and v8 data sets to v9, your device(s) much have sufficient upload bandwidth to run another full backup. The existing data set will be moved into the retention area and will remain there until your retention settings purge the data.
Example: A data set with 100GB of data and a 7-day retention period.
After ticking the Migrate Data box, a new full backup will run, and this will increase the overall size of your backed-up data by up to 100%.
After 7 days, the v7 or v8 historical data set will be purged in line with the 7-day retention period, and the backed-up data will reduce in size.
NOTE: There is no way to back out of this operation. The size of the backed-up data will not reduce until the retention settings remove it.
If you have any questions, please email support@bobcloud.net