This tech doc refers to resellers using their own hardware or cloud storage for their backups.
Issue
If you delete a backup account or backup set from the reseller portal and are using your own storage, the backed-up data will NOT be deleted.
Cause
When you create a backup set and use your own storage, i.e., any storage other than our predefined storage locations, you configure the backup software to use the login credentials of your storage. The password is only stored within the backup software on your device(s).
The password is never sent to our system and your backup data is transferred from your device to your storage destination without crossing our network. This keeps your passwords and data safe (we never know your passwords), and the backup method is more efficient.
Because the password required to access your storage is never stored on our system, the system cannot read or delete your backed-up data.
When you delete a backup account, you must first delete the backup sets using the BOBcloud software on your device. If you delete the backup account and backup sets using the reseller portal, the backed-up data will remain in your storage location.
How to do this
Go into the BOBcloud desktop software on your device
Select the first backup set you want to delete
Double-click on Delete this backup set in the bottom left of the screen.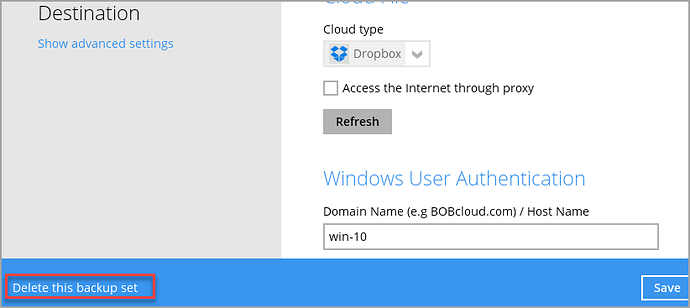 NOTE: The backed-up data will be immediately deleted from your storage destination, and we will not be able to recover it. If you are using soft delete on your storage, you will not be able to use this to recover the backup set or backed-up data.
What happens if I delete the backup account using the portal before I delete the backup sets?
The backed-up data must be manually deleted from your storage destination. If it isn't obvious which data you need to delete, contact us for assistance and send us the config files and logs shown in this tech doc Location of Ahsay OBM and ACB logs