Overview
All backup accounts are node-locked to our backup clusters and it is likely your backup accounts will be spread across 2 or more clusters.
This doesn't affect how your backups work, but it is a consideration should you need to reinstall our software.
QNAP and Synology modules aren't available directly from the portal. Contact us for an update to these modules (we need to know the backup account name).
Since February 2020, all updates are pushed from our service.
If any of your devices haven't automatically updated, the following section explains how to manually update in a few clicks.
You can contact us anytime if you require assistance.
How to update the backup software on your devices
Log into the reseller portal at https://portal.data-stor.net

Go to Customers \ View Backup Customers. This displays all your customers.
In the top right there is a grid icon that hides columns. You can edit this to display the required information.

Click on any customer in the first column Customer Name

On the right of the screen, you will see the Server name. This example confirms the backup cluster \ server is b22.data-stor.net

There is also a Download link.
When clicked, the download page will show the software options available to the customer type.
The download page can be shared and doesn't require a login. That is useful if you want to download the software on other devices without logging into your BOBcloud account each time.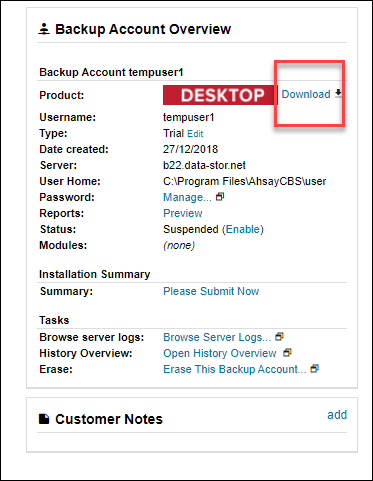 NOTE
Only install the download on other devices that are on the same cluster (see step 4).
if an account is on another cluster, download the software from their customer page (step 5).

Installing the update
a) Stop all backups and restores.
b) Close our software.
c) Download the update and install it over the top of the existing installation. The installation will remove the previous version and preserve your settings.
d) DON'T manually uninstall our software.